Loch of the Lowes webcam catches crow taking osprey egg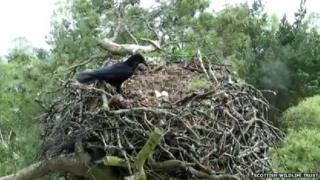 One of the eggs laid by veteran breeding osprey Lady has been stolen by a crow.
The predator struck at the nest maintained by Lady, thought to be the world's oldest breeding raptor, at the Loch of the Lowes nature reserve in Perthshire.
Footage of the attack was captured on the centre's ospreycam, and shows Lady scaring off the intruder, which had the egg in its beak.
The other two eggs were unharmed.
The carrion crow moved in when Lady's regular breeding partner - known as Laddie - was distracted chasing off another predator.
Lady, who has returned to the reserve near Dunkeld for the 24th consecutive year, laying more than 70 eggs, had been incubating three eggs in the nest.
'Unfortunate timing'
Ranger Emma Rawling described the event as a "natural disaster".
She said: "Reviewing the nest camera footage we don't believe the other eggs have been damaged - whilst another egg was picked up and dropped by the crow we believe only the one that was taken was pierced by its beak.
"Even a tiny hole or crack can introduce bacteria that will kill the chick inside, so we will continue to monitoring them carefully.
"Whilst devastating, this is a case of bad luck and unfortunate timing and we must remember that this kind of predation is entirely natural - after all the crow is feeding its own mate and young just now too.
"We are just so lucky that the female returned in time and that we did not lose the whole clutch of eggs to this predator."
The event highlights the dangers of the ospreys being frightened off the nest - last month, police were called after two walkers disturbed the nest, leaving an egg vulnerable to predators.