Dundee to parade Championship trophy in city square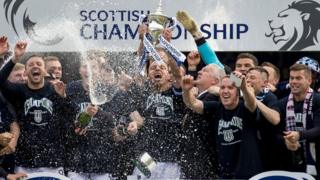 Dundee FC are to celebrate their Championship triumph at a special ceremony in the city square.
The Dark Blues, who clinched the title and promotion to the top flight with a 2-1 win over Dumbarton, will show off their trophy from the balcony of the City Chambers on Sunday.
Entertainment will be laid on before Lord Provost Bob Duncan introduces the players and management to the crowd.
The club's win has been hailed as a "brilliant achievement" for the city.
The event runs from 12:00 on Sunday, with the team arriving at 12:45 before the trophy is presented from the balcony at 13:00.
'Extremely proud'
Access to the square will be stewarded, with numbers restricted on safety grounds, so fans and well-wishers are encouraged to arrive early.
Mr Duncan said: "I am extremely proud of the team's efforts throughout a long and often hard fought league campaign.
"For Dundee to come out on top is a brilliant achievement for the players, the club, all of the backroom staff at Dens and indeed for the city of Dundee.
"So it is fitting that the team should be invited to the civic heart of the city to mark this occasion and give fans and well wishers a chance to join in."
Dundee FC chief executive officer Scot Gardiner added: "We are honoured to accept this invitation from the Lord Provost and delighted to be able to give families the chance to celebrate in the city square with the team on Sunday.
"We are sure it will be a colourful occasion."