Helicopter search after fears raised for bridge woman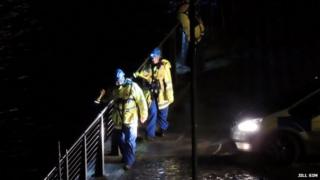 A helicopter, fire crews and the coastguard took part in a major overnight search operation after fears were raised over a young woman on the Tay Road Bridge.
A motorist raised concerns for the woman, believed to be in her 20s, just before 22:00 on Monday.
The search and rescue helicopter joined police, firefighters and the coastguard in searching the river and its banks, but were unable to find the woman.
Officers have appealed for witnesses.
The driver was travelling south on the bridge towards Fife when he saw the woman, and became concerned when he immediately doubled back across the bridge and could not see her.
The woman was described as having dark hair and was wearing a bright purple top.
The bridge was briefly closed to traffic as the search operation got underway.
Officers lit up the surface of the river with flares, and crews with flashlights made their way along the banks of the river at City Quay, where residents also rushed out to help the search.
However no trace of the woman was found, and the search was called off in the early hours.