Flanders Black Watch memorial statue unveiled in Ypres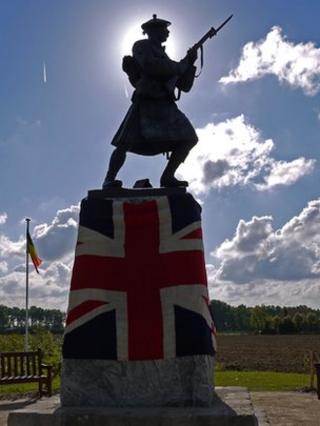 A statue of a Black Watch soldier has been unveiled in Belgium to mark the centenary of World War One.
The bronze statue, designed by Edinburgh sculptor Alan Herriot, was installed in front of 300 regimental veterans at Black Watch Corner.
It honours the 8,960 Black Watch officers and soldiers killed and more than 20,000 who were wounded in the course of World War One.
The ceremony, near Ypres, is the first Scottish event of the commemorations.
The statue, which was made in Scotland and shipped to Belgium last month, depicts a Black Watch sergeant in a World War One fighting uniform of kilt, jacket and bonnet.
He carries a Lee Enfield rifle with an 18-inch bayonet.
A lone piper played as guests, including Dundee Lord Provost Bob Duncan, Angus Provost Helen Oswald, and a large group of Black Watch veterans led by Major Ronnie Proctor, attended the event.
The statue has been erected at the Black Watch Corner, near Ypres, where the regiment and others halted a German advance despite being heavily outnumbered.
The statue will be maintained by people from the nearby town of Zonnebeke.
Col Alex Murdoch, chairman of the Black Watch Association, said: "The site chosen for the statue has been known as Black Watch Corner since the remnants of our 1st battalion took part in a successful defensive action.
"Along with other withdrawing British forces they fought against a numerically stronger force from the Kaiser's Prussian Guard in November 1914.
"This action brought to an end the first battle of Ypres and their heroic stand was to prove decisive because it stopped the German advance to the coast."
He added: "If they had broken through to the coast the war would have been over and lost.
"It seemed the most appropriate place to erect our monument to the fallen."