Hundreds complain in Glen Lyon estate access survey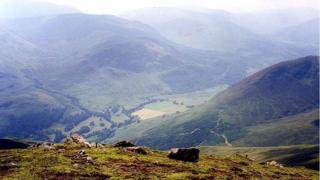 Hillwalkers have called for action after hundreds of complaints about access through a private estate.
A survey carried out by the Mountaineering Council of Scotland saw 611 problems reported at the Chesthill Estate in Glen Lyon.
The deer stalking estate contains a popular round of four Munros, but walkers reported finding it closed off behind locked gates and warning signs.
The estate's owner said he was already working on a plan with the authorities.
As well as housing a popular walking route around Carn Gorm, Meall Garbh, Carn Mairg and Creag Mhor, the estate is well-used for deer stalking during season.
Owner Alastair Riddell said it was important to find a "reasonable balance" between access, conservation and the management of the land.
Statutory powers
The Mountaineering Council of Scotland (MCofS) carried out a survey after complaints from hillwalkers about access through the estate, which is underlined in law in the Land Reform Act (Scotland) 2003.
A total of 611 problems were reported in the survey of 709 walkers, including reports of off-putting notices, locked gates and hostile responses to inquiries, which deterred some walkers from accessing the estate.
The survey noted that there "appeared to be a poor attitude to access", and said mountaineers "experience a range of problems".
Mountaineering council access officer Andrea Partridge said the responsibility for enforcing access legislation lay with Perth and Kinross Council.
She said: "We will be asking them to use their statutory powers to ensure that there is open access on the North Chesthill Estate throughout the year along with appropriate signage during the stalking season that is updated on a daily basis.
"This will help not only walkers but also the estate to manage the deer population and run their business without antagonizing those taking access."
'Cavalier campaign'
However Alastair Riddell of Chesthill Estate said he was already working with the authorities, and was "disappointed" by the "uncalled for and cavalier campaign" from the MCofS.
He said: "The reality is that the estate wildlife business is on its knees, otherwise there would be no endeavour to manage this core issue, which is ignored by MCofS and others.
"The estate has already worked up the outline of a plan with the authorities, and further discrete work is being commissioned to be carried out by an independent research body with a view to looking at the impacts that access is having on the estate, its wildlife, and specifically its deer, to inform the public and to give validity to its management approach.
"The Access Code is designed to provide a reasonable balance in land use. It provides various protections.
"It is hoped by the estate that with the assistance of the authorities, who are well informed and look at fact, that this balance can be re-established before long so as to secure the conservation of this wild area in a sustainable and properly managed fashion."