Dozens of firefighters called to Angus cottage blaze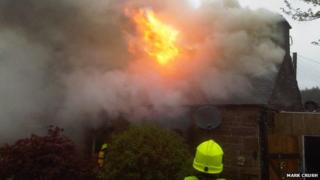 Dozens of firefighters were called out to battle a blaze which destroyed a cottage in Angus.
Four fire crews and a specialist support unit were called to Chapelton Farm near Kirriemuir when residents returned from a walk to find the house on fire on Wednesday.
The building was "50% destroyed" after flames burst through the roof, and crews remained in place for hours cutting away timbers and damping down.
No-one was injured in the fire.
The alarm was raised at 18:01 on Wednesday evening when the occupants returned home to find a fire had broken out in the kitchen.
Two engines from nearby Kirriemuir and two from Forfar were joined by a specialist breathing apparatus support unit from Dundee, with a total of 25 firefighters on hand.
Two hose jets were used to extinguish the flames, with crews having to ferry water from a nearby burn.
Mark Crush, the Scottish Fire and Rescue Service's local risk manager for Dundee West, said the building had been badly damaged in the blaze.
He said: "About 50% of the property was destroyed.
"The building is quite a bit down a farm track, and the fire had had a chance to develop.
"You can replace possessions, but the fact the people were safe and there were no injuries is the main thing for us."