Police hunt Dundee thief who may have taken child to break-in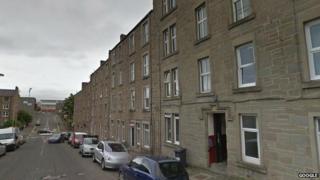 Police are searching for a raider who may have taken a child with them while breaking into a Dundee home.
The culprit made off with two TVs and a laptop after climbing through the kitchen window at the property on Isla Street on Tuesday evening.
Police said it was possible the person responsible had a child with them at the time. A bike chain was left behind in the property.
Officers are appealing for information and witnesses.
The break-in occurred at about 21:45 on Tuesday night.
The culprit forced open a kitchen window at the rear of the property on Isla Street, near the city's football stadiums, and stole a black 32in Technika television and remote, a black 14in Sony television and a black laptop computer.
A small black suitcase which may have been used to transport the other items was also taken, and a bike chain was left behind at the scene.
Police believe the housebreaker may have had a child with them, and exited the property from the rear window which leads on to gardens.
Anyone with information has been asked to contact the police.