Council recruits 60 nursery staff for childcare expansion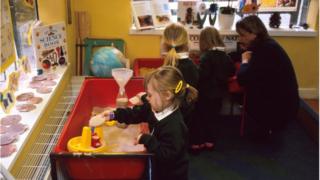 Falkirk Council is to recruit 60 extra nursery staff to meet demand ahead of an extension to free childcare hours.
All three and four year olds in Scotland will be entitled to an extra 125 hours of free early learning nursery education per year from August.
Existing morning and afternoon sessions at nurseries are to be extended by 40 minutes, creating a need for staff.
The Scottish government is increasing the present rate of 475 hours of free childcare per year to 600 hours.
The existing two hours 30 minutes morning and afternoon sessions are to be increased to three hours and 10 minutes from August.
Alan Nimmo, Falkirk council's education spokesman, said the creation of the new jobs was "great news for the local economy".
He added: "The expansion of our early years provision will provide additional support for parents at such an important stage in their child's life.
"It will also financially benefit families who are currently paying for extended care and provide parents with more flexibility around drop off and pick up times, giving many the opportunity to return to work."