Sepa and Scottish Water probe pollution at Dighty Burn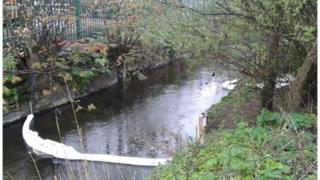 A burn running through Dundee is at the centre of a pollution probe after oil was seen leaking into it.
Scottish Water and the Scottish Environment Protection Agency (Sepa) were called in after oil slicks were seen on the surface of the Dighty Burn.
The agencies set up pontoons to soak up the oil, which was flowing from a drain near the Baldovie industrial estate.
Both bodies are monitoring the site and a full investigation is underway.
The alarm was raised after walkers spotted oil on the surface of the water near Panmuirefield, a mile downstream from the storm water drain where the source of the pollution was eventually traced.
Sepa and Scottish Water took emergency action to set up booms across the waterway and the drain in a bid to soak up the oil, which was close to the large wind turbines at the Michelin tyre plant and the stacks of the city's waste-to-energy incinerator.
The Dighty Burn runs through Angus to Dundee and out into the Tay near Monifieth, and is a haven for local wildlife.
A spokesman for Scottish Water said: "We will be visiting the site periodically to monitor the spill.
"We encourage local people to recycle oils, fats and grease and to never pour them down the drain.
"The consequences to the environment and to internal and external pipework can be serious.
"Inappropriate disposal may result in flooding, environmental damage and can pose a deadly risk to aquatic wildlife."