Thieves steal 'large quantity' of bees from farm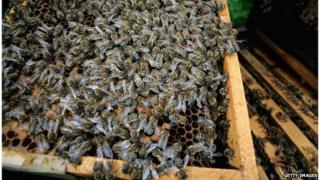 Police are investigating after a "large quantity" of bees were stolen from a Perthshire farm.
Thieves made off with six queen bees and their workers, along with 18 honeycomb frames from the farm in Coupar Angus.
The theft took place sometime between 11:00 on Saturday and 12:00 on Sunday. Officers are appealing for witnesses.
Each queen can command a colony of more than 50,000 bees, laying thousands of eggs a day.