Falkirk town centre Safe Zone project set to expand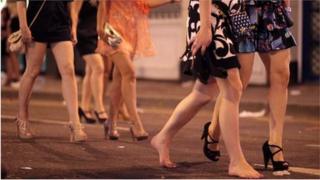 A project aimed at keeping people safe while out in Falkirk is set to expand.
The Safe Zone initiative has successfully operated during the festive period over the last five years, providing police and ambulance service patrols, taxi marshals and a safe area for stranded partygoers.
The Safer Streets partnership wants to expand the scheme to other dates when the town centre is busier than usual.
A trial is to be carried out on weekends following pay days next month.
The partnership has identified a number of key dates through the year when more people are out and about than usual in Falkirk, such as the weekends that follow monthly pay dates.
Jim Blackwood, Falkirk Council's spokesman for public protection, said the Safe Zone had helped make the town centre more enjoyable for partygoers, businesses and the wider community.
He added: "By expanding the Safe Zone to cover busy weekends outwith the festive period, we can reassure businesses and the public that we will be on hand to deal with any incidents safely and effectively all year round."
'Positive feedback'
Local pubs and clubs also welcomed the news.
David Johnston, manager of Storm Nightclub, said: "The taxi marshals outside Storm did a fine job of ensuring that customers got home safety and quickly at the end of the evening.
"The feedback from our customers was entirely positive."
And Andrew McKinnie, manager of City and Sportsters, added: "The Safe Zone scheme is an excellent project is assisting vulnerable people in Falkirk town centre.
"It gives peace of mind and reassurance to staff and customers that if any issues or incidents do arise, they will be dealt with quickly and efficiently."
The Safer Streets partnership includes Police Scotland, the Scottish Ambulance Service, British Red Cross, St Andrews First Aid, the Taxi Marshalling service, Falkirk Council's community safety team, the Falkirk street pastors and the Forth valley Alcohol and Drug Partnership.
Trials of the Safe Zone will take place on Saturday 3 May and Saturday 31 May.