Scottish Enterprise funding for Dundee's waterfront project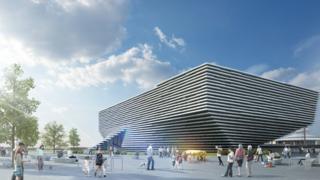 Scottish enterprise has pledged £8.3m to the Dundee waterfront project, paving the way for the new V&A museum.
The funding will be used to redevelop the area around the site of the £45m centre of design, which is due to open in 2017.
Dundee's waterfront is in the midst of a £1bn, 30-year redevelopment project.
Announcing the funding, Finance Secretary John Swinney said it was a "once in a generation" opportunity for the city to re-invent itself.
The waterfront project aims to reconnect Dundee with the River Tay. To reinforce this the V&A at Dundee will appear to float in two pools of water.
The Scottish Enterprise funding will help create a promenade area around the site, offering views of the city and the river, right on the doorstep of the new £14m railway station also under development.
'Astonishing experience'
In a visit to the riverside where work is already getting under way to lay foundations for the museum, Mr Swinney said he was taken aback by the speed with which the project was moving forward.
He said: "When people arrive at the new city train station, they're going to walk out into this astonishing experience.
"It'll be a magnificent entrance to the V&A and the waterfront area. People will be utterly captivated.
"As someone who comes in and out of the city on a regular basis I'm staggered by the pace of change."
He added: "The V&A project is a fantastic, once-in-a-generation opportunity for the city to re-invent itself and enjoy greater economic success.
"I am delighted that the Scottish government is part of this ground-breaking success."
The waterfront redevelopment is projected to create up to 9,000 jobs in the local area, attracting millions of pounds of investment and hundreds of thousands of tourists.
In the last year alone, five major demolition projects have changed the shape of the central waterfront, with further plans in place for new developments along a five-mile (8km) stretch of the riverbank, from the city's airport in the west to Dundee Port in the east.
City council leader Ken Guild said he was pleased to have won further support for the project from the Scottish government.
He said: "The promenade will add an extra dimension to the V&A at Dundee and make it even more attractive for local people, visitors and investors."