Police investigate death of bird of prey near Stirling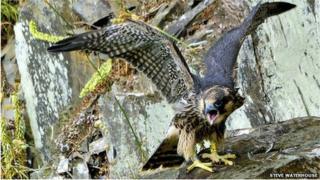 Police are investigating after a bird of prey was killed near Stirling.
The four-year-old female peregrine falcon was found dead at Cambusbarron Quarry by local raptor workers on 15 April.
Police Scotland is working with the Scottish Raptor Study Group and the RSPB to establish the circumstances.
The discovery comes after a large number of birds of prey including red kites and buzzards were found killed in Ross-shire.
Constable Malcolm O'May, Forth Valley division's wildlife crime officer said: "Police Scotland takes the persecution of these magnificent birds of prey very seriously and we will be doing all we can to identify the person responsible for this crime.
"We will be working with the local community and our partners in RSPB but I would ask anyone who has been in the Cambusbarron Quarry over the last few months to get in touch with us, you may hold crucial information that will assist in catching those responsible."
Forensic investigation
A total of 20 birds of prey, including 14 red kites and six buzzards, have been found dead in the north of Scotland in recent weeks.
A wildlife forensics team is investigating those deaths, which sparked a protest in Inverness after tests confirmed many of the birds had been poisoned.
Peregrine falcons were an endangered species in many parts of the world for many years due to the widespread use of pesticides such as DDT, although populations have rebounded strongly in recent years.
In the UK they are protected by law under the Wildlife and Countryside Act 1981.
Ian Thomson, Head of Investigations at RSPB Scotland said: "At a time when there has been almost universal condemnation of the killing of numerous protected red kites and buzzards on the Black Isle, the deliberate killing of this peregrine, and numerous other recent cases around Scotland, shows that the illegal persecution of our raptors continues to be widespread and often systematic, with birds being targeted in the same areas year after year.
"It is appalling that a species whose population is still recovering after decades of persecution and the effects of DDT continues to be an all too regular victim of wildlife criminals."