Scottish college football star dies suddenly in New York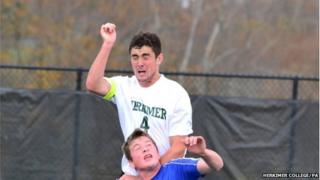 A Scottish college football star has collapsed and died in New York state.
Peter McAvoy was born and raised in Dundee before moving to the US to study at Herkimer County Community College.
As captain of the college soccer team, the 22-year-old was named the NSCAA Junior College Player of the Year in 2013 and led the Herkimer Generals to two national championships.
He collapsed and died in his college dorm room on Saturday. A candlelight vigil has been held by fellow students.
Campus safety officers tried to revive Mr McAvoy after he collapsed due to a suspected heart attack in his apartment at Reservoir Run.
He was taken to nearby Little Falls Hospital, where he was pronounced dead. A post-mortem examination will be carried out to determine the exact cause of his death.
Tributes were paid to the "unbelievable soccer player", who had "so much potential".
Dean of students Matthew Hawes said: "Our deepest condolences are with Peter's family as they grieve this tragic loss.
"Our thoughts are also with his teammates, coaches, friends, faculty and staff during this difficult time."
Top goalscorer
Before moving to the US, Mr McAvoy attended Craigie High School in Dundee and played football for Arbroath SC and Tayport SC.
During his two years at Herkimer, the defender captained the Generals, the school's men's soccer team, to back-to-back championships in the National Junior College Athletic Association's division 3.
Despite playing at centre-back, he was the team's top scorer in 2013, with 15 goals, and scored the winning goals in the quarter-final, semi-final and final of the national championships.
He was named the most valuable player in the tournament, and selected as the junior college player of the year by the National Soccer Coaches Association of America.
In total he played 40 games for the team, winning 37 and scoring 16 goals.