Peta offers £1,000 reward to help catch pigeon killer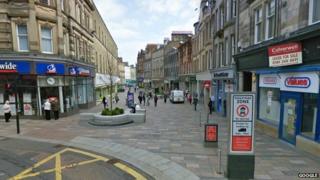 An animal rights group has offered a £1,000 reward to help catch a man who kicked a pigeon to death in Stirling city centre.
The man, thought to be in his late 20s, killed the bird while pushing a pram on Port Street at 14:15 on Friday, 4 April.
Peta has now offered the cash reward for any information leading to the arrest and conviction of the culprit.
Police have also appealed for witnesses to come forward.
The man was wearing a blue jacket and denim jeans and was in the company of a woman while pushing a pram.
Offering up the reward, People for the Ethical Treatment of Animals (Peta) spokesman Ben Williamson warned that animal abusers can escalate their behaviour unless they are stopped.
He said: "It's imperative that any community faced with the abuse of animals take measures to find the culprit of culprits and stop the violence.
"Animal abusers are a danger to everyone - they take their issues out on whomever is available to them, human or non-human."
He urged anyone with information to get in contact with the police.
PC Malcolm O'May, the wildlife crime officer for Forth Valley, said the attack was an "unnecessary act of cruelty", while RSPB Scotland underlined that the "horrendous incident" was "completely illegal".