Police called to reserve after osprey scared off nest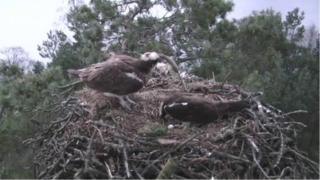 Police were called to the Loch of the Lowes nature reserve after two intruders frightened the resident osprey off her nest.
Lady, thought to be the world's oldest breeding osprey, was incubating her 69th egg laid at the Perthshire site.
However the egg was left vulnerable to predators after two people strayed into the off-limits area near to the nest and scared Lady off on Sunday.
Officers attended and escorted the pair from the reserve with a warning.
In a post on the centre's wildlife blog, ranger Emma Rawling said the "irresponsible actions" of the pair had disturbed Lady, who has returned to Loch of the Lowes 24 years in a row.
She said: "She was away for quite a while, and even on her return she was unsettled and didn't resume incubation for another ten minutes.
"We are so very lucky that in this period an opportunistic predator didn't happen by.
"It was the quick thinking and calm professionalism of our wonderful team of volunteers and staff which enabled the situation to be resolved as quickly as possible with local police assistance.
"Even if human disturbance is unintentional, it can cause serious harm to vulnerable species and can cause breeding failure or even nest abandonment."
Police investigation
Police Scotland confirmed they were carrying out an investigation, and appealed for visitors who saw anything suspicious to contact them.
The Scottish Wildlife Trust's Loch of the Lowes centre operates a round-the-clock osprey nest protection watch programme to safeguard the birds.
Ospreys were extinct in the British Isles between 1916 and 1954, and strenuous efforts are taken to protect nesting pairs.
Special viewing facilities have been constructed at the Loch of the Lowes visitor centre for bird watchers, and it has a special Ospreycam on its website.
Lady migrates back to the centre, near Dunkeld, every spring after wintering in Africa. She has laid 69 eggs and reared 50 chicks there, in recent years alongside a regular partner known as Laddie.
Both birds have been taking it in turns to incubate the latest egg, which was laid in the early hours of Sunday morning.