Lady the osprey lays 69th egg at Perthshire reserve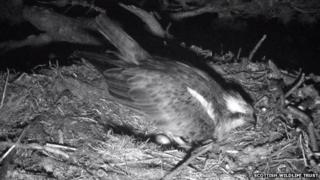 A veteran breeding osprey has laid her 69th egg at a Perthshire nature reserve.
Lady the osprey returned to Loch of the Lowes for the 24th consecutive year, having reared 50 chicks there in the past.
And staff at the centre confirmed that she laid her first egg of the season early on Sunday morning.
The 29-year-old female is thought to be the oldest breeding raptor in the world.
An update on the centre's osprey blog welcomed the "wonderful news" of the latest egg.
It read: "At around 00:30 our nightwatch staff noticed classic egg-laying behaviour, and at 00:47 the female stood up to reveal her new egg.
"It is just as well the birds have built such a deep, snug cup in the centre of the nest as it was so windy last night, the whole nest was rocking.
"The staff and volunteers here are over the moon, and we are so relieved that our beloved female is still breeding at her advanced age."
50th anniversary
Lady migrated back to the Loch of the Lowes nature reserve near Dunkeld as usual this spring after wintering in Africa.
She quickly settled down with her regular mate - known as Laddie - and staff are hopeful the pair could produce chicks again this year.
Since it was laid, the latest egg has been carefully tended and both birds have taken a turn incubating.
Scottish Wildlife Trust Perthshire ranger Emma Rawling said: "Everyone at the Loch of the Lowes Visitor Centre is overjoyed by this egg.
"It has come just as the Trust is celebrating its 50th Anniversary, so it is almost like she knew that it was a special occasion and wanted to make it extra special.
"Now there is a tense wait to see if there are any more eggs to be laid this season.
"This osprey never ceases to amaze, so it is certainly a possibility."
The trust operates a special Ospreycam on their website for bird watchers to follow Lady's progress.