Broons and Scottish Colourists featured in annual auction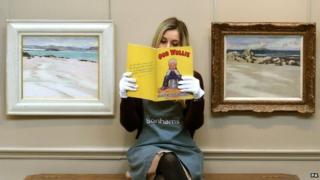 The first Oor Wullie and The Broons albums and paintings by the Scottish Colourists are to go under the hammer.
Auctioneers expect great interest in the 1940s albums, and the paintings could fetch a six-figure sum at the annual Bonhams Scottish sale.
A huge range of items including whisky, highland dress and Weymss pottery figures are also up for auction.
The sale takes place at Bonhams Edinburgh saleroom on Queen Street over two days from 15 April.
Highlights include a number of works by the Scottish Colourists, including three paintings by Francis Cadell.
The two Broons albums were published in 1940 and 1942, while the Oor Wullie book dates from 1941.
Produced by Dundee publisher DC Thomson, they were created by cartoonist Dudley Dexter Watkins, who drew the strips in his Broughty Ferry home until he died in 1969.
Each of the three albums up for auction is valued at around £3,000.
Good condition
Bonhams book specialist Henry Baggott said it was rare to find albums in such good condition as such books were usually heavily used by children.
He said: "They do turn up but the condition of them is generally very bad, covers dirty and pages missing.
"What is amazing about these is that they look like they have been untouched by human hands, least of all by children's hands.
"I'm expecting lots of interest in them. They have appeared at auction in the past and sold very well."
The paintings by Edinburgh-born Francis Cadell are expected to fetch high five-figure or even six-figure sums.
Cadell was a leading member of the post-impressionist Scottish Colourist movement in the 1920s and 1930s which went on to have a key influence on contemporary Scottish art and culture.
Two views of Iona are estimated at £70,000 to £100,000 and £60,000 to £80,000, while another piece, Summer Garden, is valued between £70,000 and £90,000.
Now in its 15th year, the Scottish sale run by leading London-based auction house Bonhams traditionally took place in the autumn, but has now moved permanently to late spring.