Research to probe education needs of Armed Forces children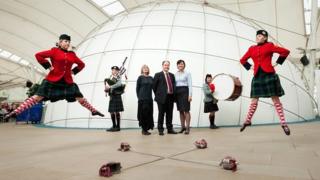 A study will examine how to support learning for Armed Forces children who have to move frequently and may have a parent in a conflict zone.
The University of Stirling and the Royal Caledonian Education Trust (RCET) are funding the post-graduate research project.
The study is believed to be the first of its kind in the UK.
Its aim is to understand and improve pupil support, particularly while parents are deployed abroad.
Dr Christine Stephen from the university's school of education said most research on the impact of parental military service on children is currently carried out in the US.
"This is an under-researched area," she said.
"Teachers in the UK currently have little or no evidence to guide their endeavours to offer children from Armed Forces families an educational environment that is sensitive to their needs."
The research will focus on recording and analysing children's perspectives of their education, using face-to-face interviews and the use of digital media such as video diaries.
Intervention programmes
RCET has already done work in Scotland to investigate and promote the need for greater understanding of the topic.
The trust held a practitioners conference last year to address the education needs of Scottish Armed Forces children, which featured performances by Forces children from Queen Victoria School in Stirling.
RCET education programme manager Moira Leslie said: "We know that Armed Forces children who experience frequent moving of home, schools and communities may not perform as well in school as non-mobile Armed Forces children.
"We also have lots of anecdotal evidence to support the view that the stresses of an absent parent to a conflict zone for some children causes anxieties that can influence their learning and behaviour.
"However we need empirical evidence that will bridge the gaps in our knowledge and provide a compelling case for embracing learning techniques, direct intervention programmes and teacher guidance that will make a difference in schools."