Motorway U-turn driving ban overturned on appeal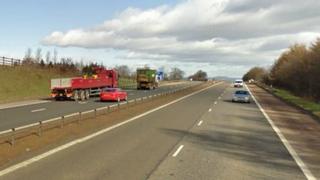 A woman who did a U-turn and drove the wrong direction down a motorway has had her driving ban overturned.
Agnieszka Czudek was travelling on the hard shoulder in the face of oncoming traffic on the M876 when an off-duty police officer spotted her.
The 29-year-old was charged with dangerous driving and banned for six months at Falkirk Sheriff Court.
However, a judge quashed the conviction and substituted penalty points which forces the new driver to re-sit a test.
Czudek's counsel Moira MacKenzie argued that the sheriff had overstated the gravity of the offence when the driving ban was originally imposed.
The court also heard that Czudek was a young widow left with two children who was working and also had responsibilities for caring for her ill mother.
'Inexperience and panic'
Judge Lord Brodie said it was Czudek's own personal situation which that prompted sympathy on the part of the court.
Lord Brodie, sitting with Lady Clark of Calton, heard that the motorist was not familiar with the road and panicked after a wrong turning and the fuel warning light coming on in the car.
The judge said: "Having regard to the circumstances of the driving which gave rise to the charge we can fully understand the serious view of it which the sheriff took."
But he said it was probably to seen against a background of inexperience and panic, although she had reacted wrongly to the circumstances she found herself in.
The senior judge concluded that following the unusual circumstances of the case they had been persuaded to quash the driving disqualification.