Science centres share £2.5m Scottish government funding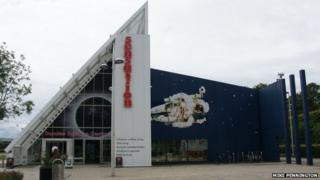 Scottish science centres are to benefit from an extra £2.5m in funding.
Dundee Science Centre, Glasgow Science Centre, Aberdeen's Satrosphere and Our Dynamic Earth in Edinburgh will share the cash from the Scottish government.
The funding was announced as new figures showed almost 645,000 people visited the four centres in the past 12 months, an increase of 0.5% on the previous year.
Centre bosses plan to spend the money on major new exhibitions and displays.
Hands-on exhibits
Science Minister Alasdair Allan said the funding would support the "exciting and informative" content on offer at the four centres.
He added: "A great deal of work has gone into bringing science to life for visitors of all ages, and I am delighted that it is having such an impact on a wider audience, with exciting new galleries and exhibits to enjoy this year.
"This funding package will allow each centre to invest in hands-on exhibits and activities, help fund school visits and also develop community programmes - either at the centres or at other venues.
"Scotland's extensive scientific heritage is something that we can all be proud of."
Glasgow Science Centre is to get the largest share of the funding, at £962,680. Our Dynamic Earth in Edinburgh will receive £899,090, Dundee Science Centre will get £332,220, and Satrosphere in Aberdeen will land £246,010.
The combined total includes £110,000 towards subsidising school transport costs, and a further £100,00 will be shared by the four centres for community events to reach out to new audiences.
Dundee Science Centre has already announced big plans with its share of the funding, with the "Ice Station Antarctica" exhibit due to open this summer.
Chief executive Louise Smith said: "We will be showing Ice Station Antarctica, a major exhibition from the Natural History Museum, for the first time outside London.
"2014 is a very exciting year for us and our community."
Meanwhile the new "Scotland's Time Lords" galleries will open at Our Dynamic Earth this month, bringing to life the impact scientists have had since the Scottish Enlightenment.
The displays are the biggest redevelopment undertaken by the centre since it opened in 1999.