Wallace and Bruce letters on show at Stirling Castle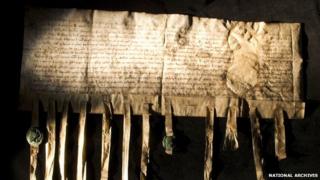 Rare medieval letters concerning Robert the Bruce and William Wallace are to go on display together for the first time.
The 700-year-old letters, including one from King Philip IV of France, depict the men's different paths in securing the Scottish crown.
Two letters dated nine years apart demonstrate the involvement of the French king with Wallace and Bruce in the fate of the monarchy.
The exhibition opens at Stirling Castle on 3 May and will run until June.
The letter from King Philip IV is penned to his agents in Rome, commanding them to ask Pope Boniface VIII to support Wallace.
It was written in 1300 and was discovered in the Tower of London in the 1830s.
It is currently on loan to the National Records of Scotland from the National Archives in London.
The document is being displayed alongside a letter to King Philip dated nine years later, which was written by Scottish barons attending the first parliament following Robert the Bruce's seizure of the throne in 1306.
Historians consider their declaration of support for Bruce to be an important moment in the recognition of his crown.
'Archival treasures'
The exhibition forms part of a series of events at Stirling Castle leading up to the 700th anniversary of the Battle of Bannockburn.
Tim Ellis, Keeper of the Records of Scotland and chief executive of the National Records of Scotland, said he was "delighted" with the exhibition.
"The death of Alexander III in 1286 triggered a dynastic scramble that came to a head in 1306, when Robert the Bruce seized the Scottish throne," he said.
"This exhibition brings together for the first time two archival treasures connected to William Wallace and Robert the Bruce, and adds to our understanding of this fascinating period of Scottish history."
Culture minister Fiona Hyslop said the documents provided a "fascinating insight" into one of the most turbulent periods in Scotland's history.
She added: "This is a fantastic opportunity for visitors to view these rare and special documents which provide a tantalising glimpse into the lives and legacy of two of Scotland's most famous historical figures."