'Wild shots' fear halts play near Ryder Cup course at Gleneagles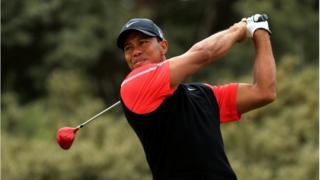 A Perthshire golf club has agreed to suspend play during the Ryder Cup over fears local players could endanger star golfers with their wayward shots.
Auchterarder Golf Club borders closely with the Gleneagles course which hosts this year's tournament.
Bosses have agreed to close nine holes on the course during the competition as "wilder-hitting members" can hook their shots onto the neighbouring fairway.
Teams from Europe and the USA will face off at Gleneagles in September.
Ryder Cup courses normally employ vast buffer zones to ensure security, but the Jack Nicklaus-designed 15th hole of the PGA Gleneagles course is just feet from the 509-yard 6th hole at Auchterarder.
Auchterarder managing secretary David Smith said he had been working closely with Ryder Cup officials, given the "unique" placing of the two courses.
He said: "The fact that we are so close to one of the key holes was obviously a concern, and I have to admit it has not been unknown for one of our wilder-hitting members to stray on to the middle of the 16th.
"No-one wants to contemplate a ball hitting Tiger Woods or braining one of the Team USA or Europe players as the focus of world golf is on them
"That would not be good for them or for us."
'Party atmosphere'
Play will continue at the "Lang Toon" course, but only on nine holes.
Members had considered erecting stands on the Auchterarder course to get a better view of play unfolding next door, but have decided it will be "standing room only" by the newly-erected fence between the courses.
Captain Alan Watt said the club was preparing a programme of events and security details for members.
He said: "We want to make sure members and invited guests enjoy the party atmosphere the Ryder Cup brings."
Ryder Cup match director Ed Kitson added: "We are delighted with the relationship we enjoy with the members and officials of Auchterarder Golf Club and I am sure that will continue as the event gets ever closer.
"We will be working closely together and I am sure their members will enjoy the chance to watch the action from the fairway which overlooks the 15th on the PGA Centenary course."
On the Sunday, members will play in what they call the "real Ryder Cup" - a match between Auchterarder and the rival King James VI club.