Police called to Dundee library over noise disturbance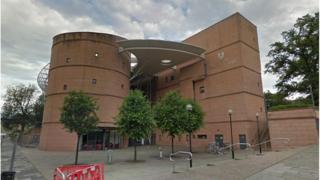 Police were called to a Dundee library after a row about noise in the "silent zone".
Officers attended at the Abertay University library on West Bell Street following reports of a disturbance.
An argument had broken out between a man and a woman about noise levels in the quiet study area, which continued outside the library.
Police inquiries are continuing, and officers have been reviewing CCTV footage.
The fourth floor of the university library is designated as a silent study zone, which is monitored by staff.
A spokesman for Abertay University confirmed there had been an argument over noise in the study area at 19:15 on Tuesday.
He said police had attended later to look at CCTV footage of the incident.
Officers were seen taking statements from students, and a spokeswoman for Tayside division said inquiries into the disturbance were ongoing.