Stirling Council chief executive Bob Jack to step down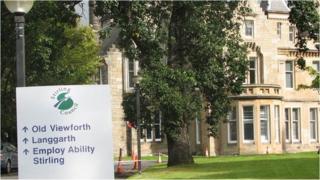 The chief executive of Stirling Council is to step down as part of a major overhaul of the authority's management team.
Bob Jack's early retirement is expected to be confirmed at a special meeting of the council next month.
Council leaders warned of "significant challenges and changes ahead" as the authority draws up a five-year business plan and budget.
Mr Jack has been in the role for five years.
A spokeswoman confirmed that a meeting will be held on 3 April to discuss "significant change" to the council's senior management team, including the early retirement of Mr Jack.
She added that the shape of the council needed to change to meet future challenges, in particular those thrown up by the authority's five-year business plan and the 2014/15 budget.
If approved, Mr Jack will formally retire on 30 September. Councillors will also be asked to launch a council-wide review of management structures, to be implemented by Autumn.
Mr Jack is the second Scottish local authority chief executive to announce their departure in a matter of days, following the resignation of Aberdeen City Council's Valerie Watts.
'Significant challenges'
Council leader Johanna Boyd said the council needed to be ready for the "very significant challenges and changes ahead".
She said: "Our services need to be delivered differently to work better for communities. The proposed changes in senior management are key to getting on with this.
"I would like to pay tribute to the leadership that Bob Jack has shown as chief executive over the last five years. He is leaving a council that is ready to embrace the challenges of the future.''
Mr Jack said this was a time of "unprecedented change in the public sector".
He said: "The council needs sustained and consistent leadership over the coming years.
"It is the right time for a new chief executive to lead the organisation through these challenging times.
"It has been a privilege to have served the council and Stirling in this role and I'm grateful for the support of employees, members and partners over the last five years."