Plans progress for new cinema in Dundee shopping centre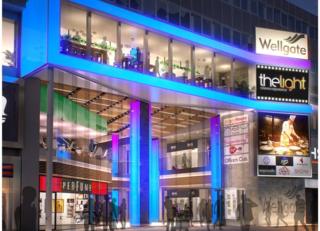 Plans for a major new cinema complex in Dundee have taken a leap forward after an operator was named for the project at the Wellgate Centre.
The Light Cinemas will run the 900-seat, eight-screen multiplex set to be installed at the shopping centre.
Centre owners Orchard Street Investment Management also plan to install new restaurants, cafes and leisure outlets in the centre on Murraygate.
The existing shops and public library on site will be retained.
A large-scale, multi-million pound upgrade to the centre was announced last year.
A three-storey glazed entrance lobby is planned for the Murraygate end of the building, complete with glowing panels, while the rear of the centre at Victoria Road will house the cinema.
Orchard Street partner Philip Rodger said: "We are delighted that The Light Cinemas has chosen to establish itself as the first anchor tenant of Wellgate Leisure, marking a significant step forward in our plan to develop a brand new leisure destination for Dundee.
"Our plans to regenerate the centre are progressing well and we expect to announce further lettings soon."
Plans approved
Phil Dove, general manager of The Light Cinemas, said the firm's offering would "appeal greatly to Dundonians".
He said: "We believe in creating social venues for the community, which is why we differ from conventional cinemas.
"We will work with our partners and the people of Dundee to support the regeneration of the Wellgate Centre and to make this a real hub for the city."
The redevelopment of the Wellgate is projected to create 330 new full and part-time jobs in the city.
It is the latest in a series of major projects underway in Dundee's city centre, including the construction of the V&A at Dundee museum and a new train station at the city's waterfront, the scene of a £1bn regeneration programme.
The Wellgate Centre also contains a JobCentre Plus and the city's main public library, which will be retained through the refurbishment.
Plans submitted to the city council, which were approved in September, include 65,000 sq ft of shops, leisure facilities, family restaurants and cafes.
Development work at the site is expected to start later this year, taking 12 to 18 months to complete.