Major exhibition of Roman artefacts at Dundee gallery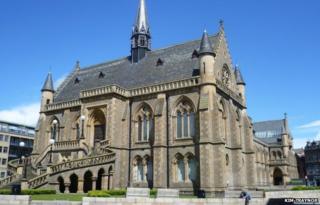 Dundee is set for a Roman invasion as part of a new exhibition at the McManus galleries.
The British Museum's "Roman Empire: Power and People" will be in the city from the start of next year.
The collection includes sculptures from the villas of Emperor Hadrian, coins from the Hoxne treasure, a horde of jewellery and near-perfectly preserved children's clothing from Roman Egypt.
Dundee is the only Scottish stop on the exhibition's tour.
The exhibition will be on show at the McManus, Dundee's art gallery and museum, from January through to May 2015.
"Roman Empire: Power and People" brings together 160 pieces from the British Museum collection to explore the history of the empire from northern Britain to Egypt and the Middle East.
Swords, burial caskets, sculptures and statues, coins and jewellery are among the items included in the collection of religious, military and personal objects which aims to give an insight into the lives of people across the empire.
The museum has hosted successful touring exhibitions of Leonardo Da Vinci drawings and fashion photography from the Victoria and Albert museum in London since re-opening after a major refit in 2010.
City Lord Provost Bob Duncan said he was "delighted" to hear about the latest show heading for Dundee.
He said: "It's such a great opportunity to have 160 Roman artefacts on display in the city.
"This is the latest in a long line of travelling exhibitions to come to the McManus, following the success of the Da Vinci drawings and the V&A fashion photography and Modern Masters in Print showcases.
"It shows the McManus is becoming widely known as a quality venue."
Neil McGregor, director of the British Museum, said: "Following the huge success of the British Museum's major exhibition 'Life and death in Pompeii and Herculaneum', it is clear that the Roman world continues to fascinate and surprise us.
"I am delighted this exhibition, exploring the wider Roman Empire in relation to the British Isles, will be shown at the McManus."
The McManus is operated by Leisure and Culture Dundee on behalf of Dundee City Council.