V&A at Dundee project gets £5m funding boost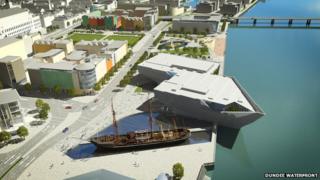 The V&A at Dundee project has been awarded £5m in funding from Creative Scotland.
Construction of the £45m design museum on the banks of the River Tay is set to get under way later this summer.
And the £5m award from National Lottery funds though Creative Scotland has been welcomed as "fantastic news".
The museum, designed by leading Japanese architect Kengo Kuma, is a key part of Dundee's £1bn waterfront regeneration programme.
The award from Creative Scotland is made up of £4.5m towards capital costs, plus £500,000 towards revenue and pre-opening development costs.
V&A at Dundee director Philip Long said: "We look forward to working closely with Creative Scotland on the delivery of truly innovative activity that nurtures, promotes and inspires contemporary design creativity across the country.
"We are steadily moving towards our funding targets and are extremely grateful for the support Creative Scotland and all of our partners continue to show in helping us realise this once-in-a-lifetime opportunity."
The Scottish government has already committed £15m towards the museum's £45m price-tag, with a further £9.4m awarded by the Heritage Lottery Fund in January.
A further £15m is being sought from private donors, with £6.7m already raised towards that goal.
Major exhibitions
Janet Archer, CEO of Creative Scotland, said she was "delighted" to support the V&A at Dundee as an "international centre of design for Scotland".
She added: "Our support will enable an exciting contemporary offering to local, national and international audiences, welcoming the world's best designers to Scotland, building on the strong design talent that exists here and ensuring a lasting design heritage for this country in years to come."
Work at the prominent waterfront site, formerly occupied by the old Olympia swimming pool, is to get under way later this year, with completion expected late in 2016, ahead of opening the following year.
The museum will host major exhibitions on tour from the V&A in London and other international museums, and will house a collection celebrating Scottish design through the ages.
The project is being delivered by Design Dundee Limited, a partnership between the Victoria and Albert museum in London, Dundee City Council, Scottish Enterprise and Dundee and Abertay universities.