Plans announced for public transport to 2014 Ryder Cup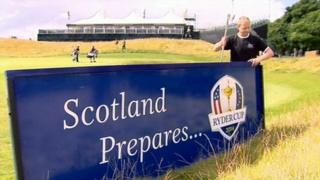 New public transport plans have been announced ahead of the 2014 Ryder Cup at Gleneagles.
Three park and ride facilities for spectators are to be set up around the region, while local roads and train services will be affected.
Meetings will take place in Kinross, Auchterarder, Stirling and Perth to explain the plans to local communities.
The biennial golf tournament between Europe and the US takes place at the Perthshire course in September.
Local authorities have drawn up plans considering approaches to Gleneagles from the north, west and east.
They include three park and ride facilities to ferry ticket-holders to the tournament and back at Perth, Balado and Stirling.
Rail services are to be enhanced throughout the week-long match-up so that stations will still be able to cater for local commuters in addition to tourists.
Traffic management is to be installed at key junctions around Gleneagles, and on the M9, A9 and M90 near the park and ride facilities, while the A823 through Glendevon will be closed to all but local access traffic.
And local bus services will be revised, along with school transport around affected areas to make sure local public transport links are maintained.
Partners including Transport Scotland, Ryder Cup Europe, Police Scotland, the Scottish government, Scotrail and Perth and Kinross and Stirling councils will be on hand at public events in Kinross, Auchterarder, Stirling and Perth to discuss and explain the plans.
'Tremendous opportunity'
Ian Miller, leader of Perth and Kinross council, said the Ryder Cup was a "tremendous opportunity" for the area.
He said: "We want all spectators to enjoy their visit to Gleneagles through using high quality, sustainable public transport provision.
"We are confident that the Transport Plan will help to deliver this, while ensuring that the majority of local people can continue with their daily lives as normal."
And Laurence Kenny of Transport Scotland added: "The three Park and Ride facilities, combined with enhanced rail provision, offer a number of options for spectators, while also minimising the impact on local communities."
The Ryder Cup is due to tee off at Gleneagles on 23 September, 2014.