New brewery plans approved for St Fillians hotel site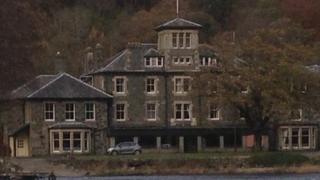 Proposals for a brewery, hotel and visitor centre in Perthshire have received planning approval from the National Park Authority.
Arran Brewery's Loch Earn development is planned for the site of the former Drummond Hotel in St Fillans.
The firms intends to have the hotel part of the development open for the start of the Commonwealth Games.
Arran Brewery also confirmed that it plans to open another distillery at the former Rosebank site in Falkirk.
The Loch Earn development will contain three bars, three restaurants and a coffee shop, as well as a 32 bedroom hotel and banqueting hall.
Lager and cider will be made at a brewery and visitor centre located on the site of the former hotel's outbuildings.
The site, which is now part of the Loch Lomond and the Trossachs National Park, originally dates back to 1807, when it was known as the Star Inn.
Arran Brewery's managing director Gerald Michaluk said: "The park authority has been fantastic and very professional in handling this development and the project will now move ahead at a very rapid pace."
The project is being part-financed by VisitScotland and Bank of Scotland to promote tourism before major events such as the Commonwealth Games and Ryder Cup.