Scottish independence: Andy Murray stays quiet on vote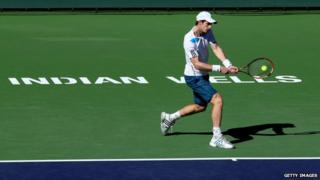 Andy Murray has vowed not to reveal his feelings on Scottish independence after abuse he suffered over a joke about England in the World Cup.
The tennis ace said in an interview ahead of the 2006 tournament that he would be supporting anyone but England.
Asked about the Scottish referendum in September, Murray said he had made mistakes in the past so would not get involved by revealing his preference.
He was speaking after beating Lukas Rosol in the BNP Paribas Open.
As a resident of England Murray cannot vote in the referendum, but the reigning Wimbledon champion was asked to express his opinion ahead of the independence poll.
He said: "I wouldn't personally choose to make my feelings on something like that public, either, because not a whole lot of good comes from it.
"I don't know a whole lot about politics, and I have made that mistake in the past and it's caused me a headache for seven or eight years of my life and a lot of abuse.
"So I wouldn't consider getting involved in something like that ever again."
Murray has explained many times that his World Cup comments were not serious but the remarks have dogged him over the years.