Traffic warden removal plan postponed for Stirling, Falkirk and Borders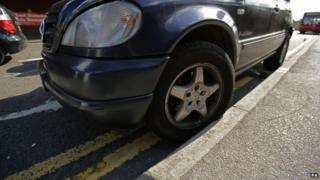 Plans to remove traffic wardens in three parts of Scotland have been postponed.
They were due to be removed by Police Scotland in Stirling, Falkirk and the Borders at the end of last week, but councils have secured a postponement.
Talks will now take place to find a longer term solution.
Some councils had been considering possible legal action over what they saw as an unlawful Police Scotland decision.
However, an undertaking has now been given by Police Scotland that the existing arrangements will be maintained until the end of April.
'Proper consultation'
Stirling Council's public safety committee convenor Councillor Martin Earl said: "The way Police Scotland has gone about this has shown scant regard for proper consultation with local councils or the impact of withdrawal of traffic wardens on the public.
"It is surely wrong for Police Scotland to pick and choose which laws it will enforce.
"The withdrawal of this service will not only greatly inconvenience the public but it is likely to cost council taxpayers dearly if there is a fall in income from parking charges as a result of there being no enforcement."
He added: "The survey carried out by Police Scotland themselves shows that parking is seen by Stirling residents as the second most important local policing issue, yet they planned to withdraw the traffic wardens from the end of last week.
"We are pleased that at the eleventh hour an agreement has been reached to continue existing arrangements for another two months to allow for local negotiations on an acceptable longer term solution."
A spokesman for Scottish Borders Council said: "Elected members considered a private report on Thursday 27 February regarding the withdrawal of the traffic warden service.
"The Chief Constable of Police Scotland has since undertaken to Scottish Borders, Falkirk and Stirling Councils that 'the current level of parking enforcement service by Police Scotland will be maintained throughout these areas until at least 30 April 2014'.
"Further discussions with Police Scotland about future provision of the service will take place over that period."