Concerns over ticket sales and marketing for Bannockburn Live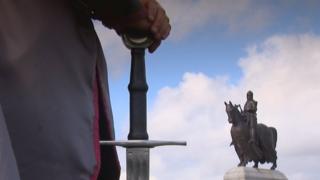 Poor ticket sales and low level marketing could threaten the event organised to mark the 700th anniversary of the Battle of Bannockburn, according to politicians and clan chiefs.
Bannockburn Live is due to take place on Saturday 28 and Sunday 29 June.
Scottish Conservative MSP Murdo Fraser has expressed concerns saying "a lot of public money has gone into this event".
But Visit Scotland has insisted its confident the two-day showpiece will be a great success.
On Friday, First Minister Alex Salmond toured the newly opened visit centre at Bannockburn hailed the site as "the birthplace of the modern nation".
Promotional activity
Bannockburn Live will include large-scale "brutally realistic" re-enactments and feature a clan village, a food & drink village and "Storyville" where Scotland's story will be told through music, song and spoken word.
But concerns were raised that the event was being "diluted" after it was cut from three days to two and the number of available tickets was scaled back to 20,000 rather than the 45,000 originally planned.
The event also clashes with UK Armed Forces Day which takes place in Stirling on the same weekend.
Speaking on the BBC's Sunday Politics Scotland programme the Conservative tourism spokesman Murdo Fraser said: "What's concerning is ticket sales haven't gone very well so far. A lot of public money has gone into this event - we need to make it a success.
"The Scottish tourism industry is relying on it being a success and it's going to be very disappointing if it doesn't live up to expectations."
His concerns have been echoed by the convener of the Standing Council of Scottish Chiefs.
Sir Malcolm MacGregor said not enough is being done to market Bannockburn Live abroad and he compared it with the 2009 clan gathering event.
"In 2009, the organisers went to America and Australia and promoted that gathering," he said.
"They went to every single Scottish games they could find and went round - tapping the boards, leaflets, you name it - promoting it. I'm not sure if VisitScotland and the people organising Bannockburn have actually done that."
VisitScotland said the two events could not be compared and it was confident Bannockburn Live would be popular.
Riddell Graham from VisitScotland said: "It was always the case that the promotional activity would be built up as we worked towards the event itself.
"History tells us that events like this there's a big rush at the end. I think it's encouraging to tell you that the large ticket, the King's ticket at £75, we have already sold 90% of that ticket allocation and all the indications are that the ticket sales will go really well as we lead up to the event."
Also speaking on the Sunday Politics Scotland programme, Stirling SNP MSP Bruce Crawford said: "People have said to us this is going to break even.
"VisitScotland has got a good solid experience in this area and I'm absolutely sure that's exactly what will happen. It will be a spectacular success."