National Curling Centre to be built in Stirling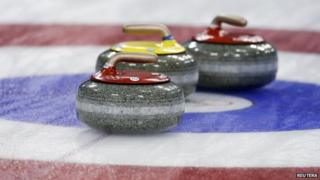 A multi-million pound Scottish National Curling Centre is to be created.
An initial investment of £2.25m will be cross-funded by sportscotland and Stirling Council to develop the facilities at Stirling Sports Village.
Stirling MSP Bruce Crawford had previously called on the government to build a curling centre in the town.
The announcement comes after Team GB's curling teams won two medals at the Sochi Winter Olympics.
Team GB's curling team, predominantly made up of Scottish athletes, proved to be one of the biggest success stories at the Sochi Winter Olympics with the men's and women's teams winning a silver and bronze medal respectively.
'Success story'
Athletes from both the men's and women's curling teams, including David Murdoch and Eve Muirhead, already train at existing facilities in Stirling University.
Both professional athletes and members of the public are expected to benefit from the new facilities at The Peak, the sports village's indoor complex.
Paralympics GB curling team captain Aileen Neilson, who was at The Peak as part of a training camp ahead of next month's games, said: "The energy and enthusiasm generated by recent achievements will help propel me and the rest of Paralympics GB towards performing at our very best in Sochi."
Ice capacity is to be increased as part of the plans and the sport's governing body, the Royal Caledonian Curling Club (RCCC), is in discussions with Stirling Council to relocate its head offices to The Peak.
The National Curling Museum is also expected to move into the new facility.
Shona Robison, Minister for Sport and Commonwealth Games, said: "The Peak has played a crucial role in the success our curlers have enjoyed so far in Sochi.
"A National Curling Centre will build on this success and secure a lasting legacy for the sport."