Matthew Pope jailed for battering Michael Given to death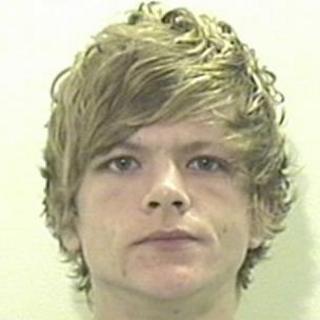 A man who battered another man to death in his own home in Dundee has been sentenced to life imprisonment.
Matthew Pope, 22, murdered Michael Given, 29, at a flat in Elders Court in the early hours of 21 July last year.
A trial heard Pope struck Mr Given on the head with a wooden post with nails sticking out of it and punched, kicked and stamped on his body.
At the High Court in Edinburgh Pope was told he would spend a minimum of 17-and-a-half years in jail.
Judge Lord Armstrong described it as an "obscenely violent attack".
He added: "There is no sentence that I can impose that will be sufficient."
Wooden post
During an earlier trial at the High Court in Aberdeen, the jury heard that Pope had carried out an earlier attack on Mr Given just before midnight on 20 July, during which he hit him with a wooden post, knocking him to the ground.
Pope then left the flat for about 20 minutes and returned "angry and raging", shouting he was "back to finish off the job".
He then repeatedly kicked and punched Mr Given, at one point getting down on his knees in a pool of his victim's blood to continually punch him on the head and body.
Pope repeatedly stamped on Mr Given and also hit him with a wooden post numerous times, leaving several marks on his head and body.
As well as Mr Given's murder, Pope was also convicted of an assault to injury on another man in February 2013.
Speaking after the sentencing Andy Shanks, procurator fiscal for the High Court for the north of Scotland, said: "Matthew Pope confronted his victim with the sole purpose of doing him harm and a short time afterwards Michael Given lay dead.
"Let this be a warning to all that whatever the circumstances, the use of violence is totally unacceptable.
"Taking the life of another is the gravest of crimes and brings with it the most serious consequences."
Speaking after the 22-year-old's conviction earlier this month, Mr Given's sister Nikki said her brother "didn't have a chance".
She described Pope, who was a butcher, as "disgusting" and added: "He's a butcher by trade and a butcher by nature.
"He doesn't understand how devastated he has left our family."