Man 'abducted and assaulted women over 12 years'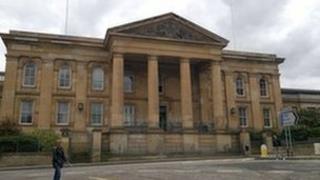 A man is to stand trial accused of abducting and imprisoning six women over the course of 12 years and subjecting them to violent attacks.
Frank de Gernier is alleged to have held six different women prisoner at addresses in Dundee between 2001 and 2013.
He denies the charges and trial has been set for April.
A QC defending de Gernier quit the case citing "irreconcilable" differences with his former client.
The 39-year-old's first offence is said to have taken place between 1 November 2001 and 27 February 2002.
It is alleged that he abducted Wendy Graham and held her against her will at an address in St Clement's Place, Dundee.
There he is said to have attacked her - repeatedly punching and kicking her on the head and body, stamping on her, knocking her unconscious and causing her to vomit, before rubbing her face in the vomit.
de Gernier is also alleged to have pulled her down a flight of stairs and forced her head against a bath.
He is then alleged to have abducted Donna McCann between 1 May 2002 and 12 December 2005 at the same address - locking her in and refusing to let her leave.
Then, on various occasions between 1 June 2004 and 31 July 2005 at various Dundee addresses, he is accused of abducting Louise Douglas - locking her in, smashing her mobile phone and refusing to let her escape before beating her violently.
A fourth charge alleges that on various occasions between 1 October 2006 and 28 February 2007 he abducted Shona Murray before assaulting her - punching and slapping her before placing a crow bar against her neck and restricting her breathing.
de Gernier is accused of another abduction - this time of Helena Milne - between 1 November 2009 and 30 November last year, in which he is said to have violently attacked her, smashed her phone, punched and kicked her and locked her in a house.
A final charge laid against him alleges that he abducted Lynne Rudkin between 1 January 2010 and 31 December 2012 at an address in Dundee's North William Street.
Prosecutors say he detained her against her will, repeatedly punched her on the head and dragged her by the hair.
de Gernier, currently held at HMP Perth, pleaded not guilty to six charges of abduction and assault on indictment.
John Boyle, defending, told Dundee Sheriff Court that he had to withdraw from acting in the case because of "irreconcilable" differences with his former client.
Sheriff Tom Hughes set a trial date in April, and ordered de Gernier to appear at a pre-trial hearing in March with new legal representation.