Perth Royal Infirmary: Inspection finds shower chairs contaminated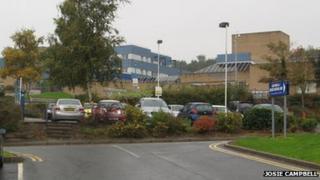 Inspectors visiting Perth Royal Infirmary found contaminated shower chairs, toilet chairs and commodes.
The Healthcare Environment Inspectorate (HEI) also found a student nurse caring for a patient in isolation, then failing to change her gloves and apron before treating other patients.
Inspectors said, overall, the hospital was clean and it had worked to address issues raised in a previous visit.
The unannounced inspection visit took place in November.
Improvement areas
HEI chief inspector Susan Brimelow said: "This inspection found evidence that Perth Royal Infirmary is working to complying with the majority of standards to protect patients, staff and visitors from acquiring an infection.
"The hospital environment was clean and we found a range of infection control leaflets available to patients.
"We did, however, identify several areas for improvement."
The report recommended that a temporary closure mechanism should be used on all unattended boxes containing "sharps" such as needles and syringes in clinical areas. It said this would minimise the risk of a injury to patients, staff and visitors.
It also said commodes, raised toilet chairs and shower chairs, must be clean and ready to use, cutting the risk of cross-infection.
Ms Brimelow said these areas needed to be addressed as a matter of priority.