Drink driver Stewart Williamson jailed for killing tourist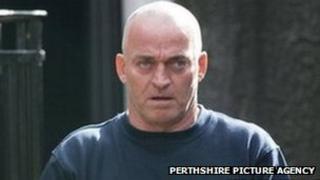 A drink driver has been jailed for five years after he killed a Dutch tourist on the day he arrived in Scotland for a walking holiday.
Stewart Williamson, 55, had been drinking for several hours when decided to drive his car a short journey to his home in Pitlochry.
Army veteran Williamson then lost control of his car and ploughed into grandfather Eduard Goudsblom.
The tourist was treated for his injuries at the scene but later died.
'Excessive speed'
John Beckett QC told Edinburgh's High Court: "You made the incomprehensible decision to drive the short distance to your home when you had been drinking for several hours."
"You were also driving at excessive speed in a place where it was entirely foreseeable there would be pedestrians about."
The judge pointed out that Williamson's Ford Galaxy was partly off the road when it struck Mr Goudsblom and gave him no chance of surviving.
The judge said that the victim was "irreplaceable" and that Mr Goudsblom's widow had said "the joy has gone from her life"
Father of three Williamson previously admitted causing the death of Mr Goudsblom on 6 April by driving dangerously while under the influence of alcohol.
When asked who had been driving the car which had killed Mr Goudsblom he replied: "It was me I suppose."
After the incident he had provided a breath sample of 108ml which was more than hree times the legal drink driving limit.
'Genuine remorse'
Judge Beckett added: "I note you served this country in the armed forces for more than 20 years and your service was exemplary."
He said Williamson had shown himself to be "a professional and dedicated soldier" who had an impressive record.
The judge also told him: "I accept you have expressed and felt genuine remorse."
He said there were features in the case that placed it in "the upper level of culpability" but there was also significant mitigation in his personal circumstances and in the remorse he had shown.
The judge summed up by saying that Williamson that he would have faced a seven-year prison sentence but for his guilty plea and also banned him from driving for seven years and ordered he sit a test again.