Driver pulled U-turn on motorway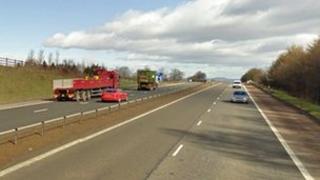 A woman has been banned from driving after doing a U-turn on the motorway and then heading the wrong way down the hard shoulder.
Agnieszka Czudek was trying to get to Glasgow when her satellite navigation sent her in the wrong direction at a junction of the M876 near Falkirk.
She turned the car around and headed back along the hard shoulder in the hope of returning to the junction.
Czudek was banned from driving for six months at Falkirk Sheriff Court.
The 29-year-old was also fined £300 after admitting driving without due care and attention. She had originally been charged with dangerous driving but the Crown accepted her plea to the lesser charge.
The court was told that Czudek, a mother-of-two from West Calder in West Lothian, had panicked because her Chevrolet Cruze saloon car was running low on petrol.
She was stopped when an off duty police officer saw her driving the wrong way down the hard shoulder and pulled in front of her, forcing her to stop.
When the police arrived they escorted her the right way down the motorway before pointing her in the direction of Glasgow.
Depute fiscal Graham McLauchlan told the court that the incident, in September last year, happened at about 19:00 on a clear dry day.
He said: "A witness saw the car with Czudek in being driven towards them on the hard shoulder. The driver of the other car manoeuvred his car on to the hard shoulder to stop her driving further and this brought her to a stop.
"In discussion with the driver she indicated that she had a problem with her sat nav and had realised she took the wrong turning onto the M876.
"The police were contacted and carried out normal procedures."
'Grass area'
Defence solicitor Neil Stewart told the court that Czudek had passed her test in July 2012.
He said: "There appears to be a grass area on the side of the road and that is where she turned.
"The car was facing the wrong direction, but she only went a few feet before the officer saw her. Police did allow her to carry on the right way on the motorway.
"Her position is that she panicked about the sat nav and she was low on fuel."
Passing sentence, Sheriff William Gallacher told Czudek: "What you have done is put yourself and everyone else at a terrible risk, this is a very busy junction.
"In my view this is very serious, I don't know if you thought you could turn round on the motorway, that is a very serious lack of care.
"With hesitation I will deal with this by way of a financial penalty and by disqualifying you from driving for six months."