Bannockburn 700th event cut by a day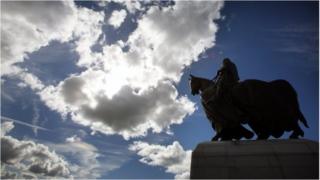 An event to mark the 700th anniversary of the Battle of Bannockburn is to be cut by a day, organisers have said.
"Bannockburn Live" was to have been a three-day event over the last weekend of June.
But VisitScotland has said it will now take place on Saturday 28 and Sunday 29 June, with the hours extended by two hours until 7pm.
Ticket prices start at £20 for an adult and organisers said they had sold about 2,000 so far.
The Battle of Bannockburn on 24 June 1314 is one of the most significant events in Scottish history.
Robert the Bruce led the Scots to a decisive victory over the forces of King Edward II of England at the battle site near Stirling.
The Bannockburn Live event will include a large-scale "brutally realistic" re-enactment involving 300 people, taking place three times each day.
The battles will be choreographed by Clanranald who have worked on Hollywood blockbusters such as Gladiator, Robin Hood and Thor 2.
The two-day event will also feature a clan village, a food & drink village and 'Storyville' where Scotland's story will be told through music, song and spoken word.
The Main Stage will feature folk and contemporary music throughout the day.
The new Battle of Bannockburn visitor centre, due to open in March, will not be open to general admission ticket holders during the Bannockburn Live event.
The visitor centre will only be open to Bannockburn Live 'King's Ticket' ticket holders who will be permitted exclusive access as part of their ticket package.