Murder victim Michael Given 'didn't have a chance'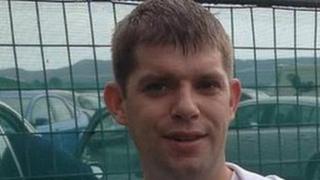 The sister of a man who was battered to death in his own home in Dundee said he "didn't have a chance".
Matthew Pope, 22, killed Michael Given, 29, at the flat in Elders Court in the early hours of 21 July last year.
The High Court in Aberdeen heard how Pope punched, kicked and stamped on Mr Given's head before repeatedly battering him with a wooden post with nails protruding from it.
He was found guilty on Monday and will be sentenced on 25 February.
Speaking after the hearing, Mr Given's sister Nikki said Pope, a butcher by trade, was "disgusting".
'Butcher by nature'
"He's a butcher by trade and a butcher by nature," she said.
"He doesn't understand how devastated he has left our family.
"Michael couldn't even defend himself. He attacked Michael when he was in his boxers - it's disgusting."
She added: "Michael didn't have a chance.
"Even though justice has been done, it's never going to bring Michael back."
Mr Given's family sat through two weeks of evidence after Pope denied murdering him.
His mother Angie fled the courtroom in tears repeatedly as the details unfolded.
His sister added: "It was horrific - we knew Michael was murdered but we didn't know it was that brutal.
"Some of it was too distressing for my mum. I think it was just seeing all of Michael's injuries."
Ms Given said Mr Pope was a "monster".
She said: "I hate that boy for what he's done to us. I don't understand how he could put us through a trial.
"He could have just ended this way back and just pled guilty from the start."
She said life would "never be the same" for their family.
Nikki added: "Everybody says their family is perfect, but Michael really was perfect.
"Matthew Pope was not his mate, like he claimed. Michael fed all his friends and gave them money and electric, he gave them everything.
"My mum is broken. Michael was just a mummy's boy.
"My mum said that you don't give birth to a son to have him snatched away later like that.
"Everybody else gets on with their lives and we're just stuck. It's not natural having to move forward without Michael so I don't think we can."
Pope, who was told by judge Lord Armstrong he faced life behind bars, showed no emotion as the verdict was read out.
The trial heard he how he had carried out an earlier attack on Mr Given just before midnight on 20 July, during which he hit him with a wooden post, knocking him to the ground.
A jury heard how Pope left the flat for about 20 minutes then came back "angry and raging", shouting he was "back to finish off the job".
Pool of blood
He then repeatedly kicked and punched Mr Given, at one point getting down on his knees in a pool of his victim's blood to continually punch him on the head and body.
Pope repeatedly stamped on Mr Given, once so hard it left a bruised imprint of the sole of his Fred Perry trainer on his shoulder area.
He also hit him with a wooden post numerous times leaving many marks on his head and body in the shape of the post.
One of the blows was so hard it split the wooden post in two.
A post-mortem examination showed that Mr Given had died from head injuries caused by blunt force trauma from at least three blows of "severe" force to the head, similar to injuries seen in a high-speed car crash.
Half of the broken post was found next to Mr Given's body in his living room, and the other half with the nails - confirmed to be an exact match - was found blood-stained and dumped in a communal bin.
Also in the bin was the white top Pope wore when carrying out the killing which was "saturated" in Mr Given's blood.
Pope was also found guilty of assaulting Rael Johnston at Dundee's Victoria Road on 10 February last year by repeatedly punching him and stamping on his head.
Following the trial, Det Insp Bobby Dow, from Police Scotland, said the murder was a "harsh example of the impact of alcohol-related violence".