Woman, 87, hurt in Dundee hit-and-run crash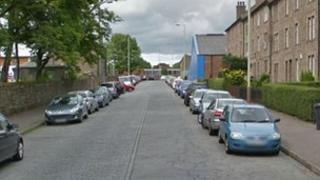 Police are searching for a motorist who injured an 87-year-old woman in a hit-and-run crash.
The woman was crossing Hospital Street, in Dundee, at 07:42 when she was struck by what is thought to have been a blue BMW 1 series car.
The driver of the vehicle, which had a registration number beginning ST59, failed to stop and continued driving towards Clepington Road.
The victim was taken to Ninewells Hospital for treatment.
She suffered a head injury and a broken pelvis, but was conscious following the incident.
A local shopkeeper helped the injured woman before an ambulance arrived.
Police said the car involved may have damage to its front or bonnet as a result of the crash.
Det Insp Gary Ogilvie said: ''It's vital that we trace this BMW car and the driver. There is a high chance that the car will have sustained damage to the bonnet as a result of this collision and I would ask anyone who knows where the car or the person driving it is now to get in touch with us.
"Officers are examining CCTV footage and doing vehicle checks in a bid to identify the offending vehicle. We would far rather the person driving this car did the right thing and get in touch with us before we have to come calling.''