Aberdeen fan Nicholas Simmers had smoke bomb in pants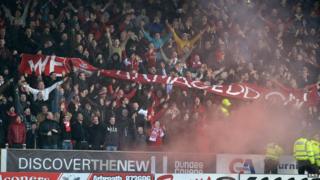 An Aberdeen fan who hid a smoke bomb in his pants before a football game at Dundee United's Tannadice stadium has been banned from matches for two years.
Police caught Nicholas Simmers, 19, from Aberdeen, carrying three flares before the New Year's Day game.
Sheriff Tom Hughes criticised the "paltry" prison sentence available for the offence, which he said would only amount to 20 days.
Instead, he ordered the football fan to carry out 160 hours community payback.
Simmers had admitted being in possession of three flares, one of which was hidden in his pants.
Flares 'planted'
He had claimed they had been "planted" on him by people he did not know.
Sheriff Hughes said the maximum sentence available for the offence Simmers was charged with was 60 days - which would be reduced to a maximum of 40 days because of his early guilty plea.
He would then be released after a maximum of 20 days because of automatic early release.
Sheriff Hughes said: "Because of how this has been charged the sentence would be paltry and you would be out within days.
"That's not the way to deal with these matters. These are extremely serious matters."
He added: "These matters deserve a custodial sentence and you should be going to jail."
'Very dangerous'
Last week, Aberdeen fan Findlay Duncan was given a 120-hour community payback order and a two-year football ban after he was caught with a smoke grenade in the stands at the same match.
Police Scotland Ch Supt Adrian Watson said: "These have been, to say the least, disturbing cases and it is incumbent upon me to remind the very few who may still contemplate involving themselves in such stupid, immature and reckless conduct that the over-whelming majority of fans want nothing to do with you and that we will continue to work with them and the clubs to bring you before the courts."
Vicki Bell, football liaison prosecutor for the North of Scotland, said: "The use of smoke bombs or any pyrotechnics at football games is potentially very dangerous and will not be tolerated.
"Police and prosecutors will prevent their use wherever possible and prosecute anyone caught using or in possession of smoke bombs and flares."