Sir Kenneth Murray leaves millions in will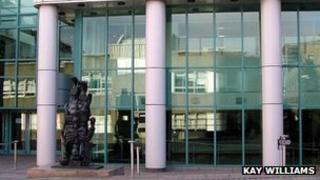 An Edinburgh professor who developed a vaccine against hepatitis B has left millions of pounds to a trust he set up for young biologists.
Molecular biologist Sir Kenneth Murray, who died last April at the age of 82, left £13,333,058 in his will.
His estate includes his home in Mortonhall Road, Edinburgh, the land he owned, worth £1,850,000, and a property in London worth £950,000.
Sir Kenneth co-founded Biogen, one of the first biotechnology companies.
Papers from Glasgow Sheriff Court revealed that the Edinburgh University professor left more than £9m to the Darwin Trust of Edinburgh, a charity he set up that supports young biologists in their doctoral studies.
Paintings left
He also bequeathed £2m to the Royal Society - a fellowship of many of the world's most distinguished scientists drawn from all areas of science, engineering, and medicine.
He left £200,00 to Edinburgh University and £100,000 each to Dundee and St Andrews universities.
The same amount will go to the University of Manchester and University of Sheffield for research in biological sciences, including scholarships for PhD students.
Sir Kenneth, who was born in Yorkshire and grew up in the Midlands, also specified that a total of £3,435,000 was to be paid out to various people and charities.
The court papers showed that he left more than £565,140 worth of items, including paintings in his home.
He also had a number of insurance policies and bank accounts.
Sir Kenneth was also the sole executor of his wife Noreen's estate. She was a former Edinburgh University molecular geneticist who died of motor neurone disease in 2011, leaving more than £9m.
Produced vaccine
After her assets were dealt with according to her wishes, and beneficiaries given their inheritance, the rest of the money formed part of her husband's estate.
After funeral costs were paid the professor left £285,000 to members of his family and former lab assistant and personal assistant.
Sir Kenneth joined the University of Edinburgh in 1967 at what was then the only department of molecular biology in the country and went on to become Biogen Professor of Molecular Biology in 1984.
He found a way to identify the hepatitis B virus and then produced a vaccine.
By 1978, he and his colleagues had created the vaccine and later proved that it was effective in treating hepatitis.
He was involved in the establishment of Biogen, which commercially developed the vaccine for use. It is now used around the world.
Sir Murray continued his molecular biology research activity at Edinburgh for many years.
Following his retirement in 1998, he continued to come to the laboratory every day, leading further scientific endeavours.