Perthshire conman Reece Scobie lands further jail term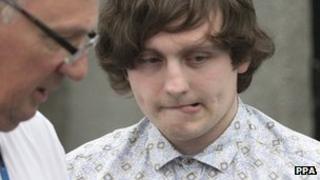 A conman likened to Leonardo Di Caprio's character in Catch Me If You Can has been jailed for eight months for cheating hotels and rail firms.
Reece Scobie, 20, of Rait in Perthshire, admitted a number of fraud charges at Southwark Crown Court.
He is currently serving a 16-month sentence for similar offences.
Judge John Price told Scobie, who has Asperger's Syndrome and Obsessive Compulsive Disorder, "If you don't learn now, you never will."
Scobie admitted three charges of fraud, two of possessing articles for use in fraud and four of unlawful interception of emails.
He also admitted an additional count of fraud by false representation and a single count of possessing an article for use in fraud.
The court heard how he used popular websites to obtain customer card details, intercepting online bookings as they were sent out to hotels and venues.
On one occasion during his six-month spending spree, he even asked for compensation after one of the trains ran late.
Prosecutor Miranda Jollie told the court: "These were online frauds.
"They would find compromised credit cards and use them for high-value train tickets.
"The companies involved notified the British Transport Police."
She said the police were able to track him down because he was using a council internet account at the local library to makes the transactions.
In addition, CCTV of someone picking up the tickets was also shown to be him.
"What he was doing was hacking into the emails sent from booking websites to hotels and taking the customer details and using these to make purchases of tickets," she explained.
"On one occasion, he had made a complaint about a delay and had been awarded compensation."
When officers searched Scobie, they found scores of train booking confirmations and "details of fraudulent credit cards".
However, rather than selling the tickets for profit, Scobie retained them until they expired, which was a symptom of his Asperger's, explained Kieran Moroney, defending.
"This was planned but not professionally planned," Mr Moroney commented.
"Many of the tickets were duplicates, many of them were expired.
"This is a very isolated young man - he is a lonely young man."
He said that a lot of the time Scobie would get the train "back and forth" from London to Scotland.
'Lonely time'
Judge Price said: "He is not a professional, in the sense that he is in a criminal network, selling these tickets on.
"You are 20. You have got Asperger's. You are having a lonely time in prison.
"If you don't learn now, you never will."
He jailed him for eight months to be served consecutive to his current prison term in Scotland which is due to be completed in June.
Scobie was previously jailed at Perth Sheriff Court in October last year after he admitted carrying out a £70,000 fraud to fund a "jet-set" lifestyle.