Salmon season begins on River Tay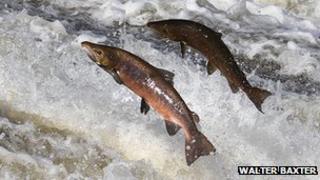 The 2014 salmon fishing season has begun on the River Tay.
The first fly was cast by seven-year-old champion angler Jimmy Stewart at the request of Alex Salmond.
The first minister also used the occasion to announce an independent review into wild fisheries management.
It comes less than a week after the Association of Salmon Fishery Boards (ASFB) called for a moratorium on killing spring salmon until 15 May to conserve stocks.
It follows a war of words over compensation rights between anglers and fishermen who net salmon at sea.
Coastal fishermen recently abandoned a blanket voluntary delay to the start of their fishing over the issue.
Anglers fear that could threaten salmon numbers.
Mr Salmond said the outgoing Scottish Natural Heritage Chairman Andrew Thin would chair a review into fisheries management.
The first minister said game and coarse angling was worth £134m in expenditure to the Scottish economy, supporting 2,800 jobs.
He added: "This review is about looking forwards, not backwards and will be founded on what is required to ensure a sustainable wild fishery in Scotland.
"I am sure everyone with an interest in salmon and freshwater fisheries and their sustainable future will want to engage with Andrew Thin and the review process in a productive and co-operative way, and I would encourage them to do so."
The review is expected to begin in March and will take about six month to complete before a report is sent to ministers.
The Tay, which is specially famed for its early running spring fish, has operated a catch and release policy since 1999.
That policy culminated in more than 90% of spring fish being released back into the river in 2012.
This year all salmon caught on the river until 31 May will have to be released.
'Threatened or vulnerable'
Anglers on the Tay are also being prevented from using worms to catch fish to reduce the numbers being fatally injured when hooked.
Alasdair Laing, chairman of the Association of Salmon Fishery Boards, said declining numbers of spring salmon had put pressure on stocks in many areas.
He said: "Numbers of returning adults are so low that some stocks of spring salmon are close to, or below, being self-sustaining; the earliest running fish are the most vulnerable.
"It is a well-established management principle that breeding fish should not be killed where a stock is threatened or vulnerable. On that basis it is the ASFB recommendation that no fish should be killed before 15 May."
The biggest salmon caught with a rod in the UK, was landed on the River Tay. Georgina Ballantine reeled in a 64lbs fish in 1922.
This year's salmon season is due to run until 15 October.