Former Remploy staff to make nurses' uniforms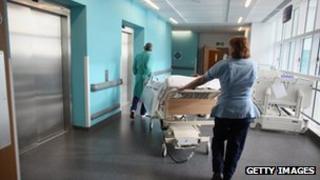 A company that will manufacture nurses' uniforms for the Scottish NHS has taken on a group of former Remploy staff.
The 26 disabled workers have been recruited by the Haven PTS Ltd factory in Stirling after the UK government withdrew Remploy funding last year.
Scottish Health Secretary Alex Neil joined Enterprise Minister Fergus Ewing to officially launch the new textile manufacturing business.
It has been awarded a three-year contract worth up to £1.5m a year.
Mr Ewing said that by last month less than half of the estimated 250 people who lost their jobs as a result of the Remploy closures had started in a new position.
He said the Scottish government had launched a new directory to showcase the work of supported businesses - those firms where more than half the workers were disabled and would be unable to work in the open labour market.
Mr Neil said: "I am delighted that nurses' uniforms for the NHS across Scotland will now be provided by Haven PTS Ltd and that this work has enabled the company to take on so many former Remploy employees.
"This work, which is worth up to £1.5m per annum, will enable Haven to provide up to 150,000 tunics and 100,000 pairs of trousers for NHS workers across Scotland each year while providing sustainable jobs for many workers and helping to stimulate the local economy."
'Alternative work'
Mr Ewing said that since April 2012 he had been "working very hard to mitigate the effects" of the closure of Remploy factories in Scotland.
The minister added: "Without these new opportunities with Haven PTS Ltd, all of the Remploy staff would have been left unemployed and struggled to find new jobs."
A spokeswoman for the UK government's Department of Work and Pensions said ministers had put in place an £8m package of employment support for all those disabled workers affected by the closures.
She added: "Of the 1,485 disabled ex-employees who have taken up our offer of employment support, nearly three-quarters have been helped to take up alternative work or are in training."