Black Watch soldier secrets revealed after century wait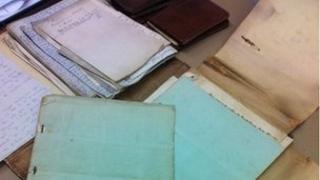 The personal accounts of a soldier from the Black Watch have been revealed after almost a hundred years.
Lt Col J Stewart of the 9th Battalion stipulated that his personal memoirs only be opened in 2014.
When archivists at the Museum of the Black Watch in Perth opened the records on Wednesday, they discovered bundles of letters and diaries from WW1.
Lt Col Stewart took over from Arthur Wauchope as commanding officer of the 2nd Battalion in 1916.
He was also in command during the battle of Samarra in modern-day Iraq in 1917, where the Baghdad Bell - on display in the Black Watch museum - was captured.
'Personal story'
Archivists are not exactly sure whether Lt Col Stewart's first name was John or James.
However, they have now begun the long task of reading the contents of his letters and documents to see what they contain.
Richard McKenzie from the museum said it was an exciting project for those involved.
He said: "Initially, prior to opening the sealed documents we actually knew very little about him. We just had his bare bones, his military service.
"We know that he was an officer in the 9th Battalion, the Black Watch. He went with the 9th overseas to France in 1915 and rose to become a major to temporarily commanding that battalion.
"In 1917 he was given command of the 2nd Battalion of the Black Watch, who were fighting at that time in Mesopotamia."
Mr McKenzie said the collection of documents was significant.
He added: "It is one of the biggest collections we have from an individual. It is a fantastic collection because it covers almost the entire span of the war.
"He's writing to his family from 1915 through to 1919 and it is not just him as an officer, it is him as a man, as a family man. It is telling us about a personal story of the war.
"He is writing his letters but he is also recording his personal views of various battles fought by the battalions.
"So we have an individual's eye-witness account of several key battles, especially in Mesopotamia in 1917 and 1918."
Mr McKenzie said Lt Col Stewart's insistence that his war documents be sealed until 2014 was most likely due to his desire to protect the personal lives of himself and his family.
This year marks the centenary of the outbreak of WWI.