Taxi driver Danish Masood abducted passenger in sex attack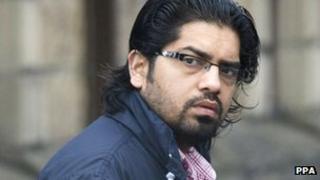 A taxi driver who locked a female passenger in his cab and sexually assaulted her has avoided a jail term.
Following a trial at Perth Sheriff Court, married Danish Masood, 33, was found guilty of abducting the woman on 2 November 2012.
Sheriff Michael Fletcher said he had considered imposing a custodial sentence.
But he instead ordered Masood, from Perth, to carry out 200 hours of unpaid work.
He was also placed on the sex offenders register for five years.
'Particular concern'
Masood was found guilty of locking the woman in his taxi and then assaulting her in Dunkeld Road and Bute Drive in Perth.
The sheriff said: "This offence is a serious one. It is particularly serious because of the fact it is committed by you whilst you were acting as a taxi driver.
"Members of the public are encouraged to take taxis rather than walk because it is thought to be safer - but then to find an offence such as this being committed will give the public particular concern.
"The victim indicated she suffered quite serious upset and difficulty as a result of this offence and that must be taken into account.
"The fact you were a taxi driver when this occurred makes it more serious than it would otherwise have been. A custodial sentence would be appropriate."
However, the sheriff said that, as Masood had not committed any other offences and had not been in prison, an alternative to a custodial sentence could be considered.
The court was also told that Masood's wife was standing by him and was expecting their second child.
Solicitor Alan Robertson, defending, said social workers had assessed his client as being of "low risk" to the public.
Mr Robertson also said that Masood's taxi licence had been revoked prior to him going on trial and that he was currently unemployed as a result.