Big Noise Raploch group set for Caracas concert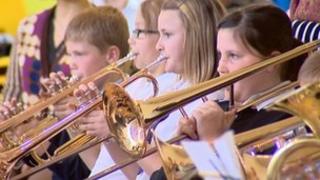 A group of 52 children from Stirling's Raploch estate are travelling to Venezuela to perform a one-off concert in the capital.
The trip will also see the group rehearse with youngsters in Caracas and receive a special masterclass from renowned conductor Gustavo Dudamel.
It has been organised as part of the Big Noise project, which aims to transform communities through music.
It was inspired by the El Sistema project to fight poverty in Venezuela.
'Major centre'
Since it began in 2008, more than 450 children and 50 adults from the Raploch area have taken part in the programme to create an orchestra.
Plans to create another orchestra are also under way in Govanhill in Glasgow and in Aberdeen.
Director and chief executive of Sistema Scotland, Nicola Killean, said: "We hope the trip will build on the work we have been doing week to week since our launch in 2008 and further enhances our strong partnership and friendship with Venezuela.
"This is very much the trip of a lifetime and a trip that can be life-changing. The children have earned this opportunity through their hard work.
"We now want to make Stirling a centre for excellence and learning to share the expertise we have gained.
"People from around Scotland, the UK, and the world have beaten a path to see what is happening here.
"After this trip we will be considering how to make Stirling a major centre for sharing El Sistema globally."